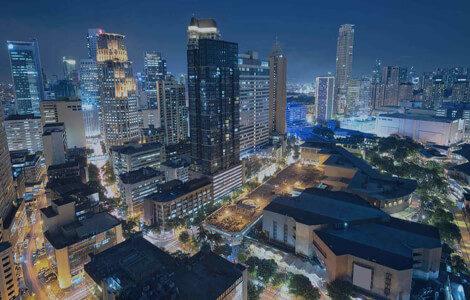 MANILA CONDOS
The luxurious Manila condos are a place not to miss. The ambiance they create draws you to their welcoming embraces. These are places to be called homes not because of the condos themselves but because of the city itself. A city where at the end of the day, you can have some fun and joy. This is a city that engages all your five senses.

Economy
This is the hub of all commercial activities in Philippines. The city draws chunks of money from both local and multinational corporations erected there. Banks, embassies, and several organizations are located here. If you want to invest just do yourself some justice and invest in Manila where we will never see you crying foul about your dwindling business city. Its strategic position is to be thanked for enabling it to pull resources from all corners of Metro Manila. As a businessman do not think twice about doing business in the city, run get your business booming in no time. This lively city's high population of over one million people offers a ready market to products and services making businessmen pocketful of money constantly. My quote, 'better money make you run crazy than poverty'

Education
Education is the key to success and this is why the rich Manila Ciity has educational institutions scattered everywhere in the city. Were it not for that preschool teacher fruitlessly struggling to get my stubborn hand to hold a pen and my mind to stay in class, I wouldn't be here telling tales about this world-renowned city and neither would you be here reading this article. That is how powerful education is. If you know the power of pen and paper in your child's life you know the importance of living near your children's schools. Avoid the hustle of taking your children to and from school, save your precious time for time is money especially in this city where you be garnering money. Above all you will be avoiding the worry that grips you when you remember the distance that your child has to cover and the risks and dangers that they may encounter on their way home. Your children's education need not be disrupted due to where you are residing. There are both public and private schools in the city from elementary schools up to universities.
At the University Belt, find a high concentration of colleges and universities. The Manila Science High School, the National Library, the University of the City of Manila are housed in Manila. With all these, no sane person would dispute the fact that Manila is a centre for education.

Shopping Centers
What does Manila city lack? Manila is a city within a city for it is full of state-of-the-art shopping malls and outlets. This lively city offers both enclosed malls and open-air markets for its residents, tourists and those who go there to work only. The community malls are wonderful places to do your shopping if you are not into major shopping centers since they offer almost everything that these major shopping centers offer. What is even amazing is that these malls are located in almost every street of the city, you do not have to put your feet into unnecessary exercise merely to find a shopping centre just .

Apart from eating, we also need to dress and this is where ladies and sober men will support me. Manila's malls not only cater for our kitchen needs. There are lifestyle malls which most of them are boutiques. Ladies, this is one place to live in for you will never have to worry about your closet from office wear to outdoor clothing. Dress but use a fortune to cloth yourself because bargain centers are here for you. Drivers, do not worry about where to park your car. One thing about most of the malls found in this city is that they have spacious parking lots with good security.

When talking about shopping malls we cannot forget about office employees. There are many food stalls just around the corner for those looking to buy affordable meals. Manila restaurants are very comfortable and welcome you with their wide variety of food from Chinese to French food. They say we live to eat but after visiting these restaurants no doubt you will say we eat to live.

I wonder when you will ever step in the legendary Tutuban Centre and Lucky Chinatown Mall. I don't want to mention the goody goodies of these Malls, I might preempt the story.

Commuting in Manila
Manila was cursed to serve its residents and it will not stop any time soon. Manila condos just have to fall on the positive side when it comes to transport in the city. Without good roads and good means of transport nothing will be possible but with Manila condos you just don't have to worry about that. This highly developed and affluent city has several means of transportation.
Don't be bothered travelling in a crowded vehicle, buses are perfect for you. They diligently serve all around the city however; you cannot get in or off the bus as you wish. There are bus stops only at designated points where you can get in or off the bus. Anyway what is the problem with getting off at a designated stop after a wonderful experience and a satisfactory service? Up to when will you tolerate those drivers and bus conductors who are disrespectful, arrogant proud and value you as a client? Actually, you don't have to go through that yet there are better services in Manila. Don't take it as an incitement but if you do the better. The contemporary color coding is active 24 hours thus it is safe to walk with the kids. You can commute by train, the LRT line 1 and line 2. using the train is an inexpensive way of commuting.I was forgetting about the jeeps. The most popular means of transportation. Get to meet the rowdy drivers who will stop at nothing but being some wealthy freaks. If you are few in the jeep, get ready to be dropped off at any point because they won't gain any profit taking you to your destinations. As you get angry at them you will be laughing the matter off in the future.